Carotenoid, Carotene and Anthocyanin Levels of Naturally Grown old Garden Roses (Rosa ssp.) in Van

Abstract views: 337 /

PDF downloads: 206
Keywords:
Rosehip species, carotenoid, carotene, anthocyanin
Abstract
Secondary metabolites especially phenolic compounds, flavonoids, tannins, and terpenoids have potential antioxidants and antimicrobial activity. Carotenoids are important antioxidants and bioactive compounds supplying to the health benefits of different foods and rosehips known for high bioactive content. Anthocyanins have physiological importance because of their abilities to protect leaves from photooxidative injuries without significantly compromising photosynthesis. Numerous studies shown that roses are rich sources of bioactive compounds. The genus Rosa contains various species that are widely grown in Europe, Asia, The Middle East and North America. In this study it was aimed that determination of carotenoid, carotene and anthocyanin amounts of naturally growing old garden roses species in Van ecological conditions. In this study eleven species of rosehips (Rosa damascena, Rosa damascena var. semperflorens, Rosa laxa ssp. harputensis, Rosa alba, Rosa multiflora, Rosa pisiformis, Rosa foetida, Rosa foetida var. bicolor, Rosa hemisphaerica, Rosa hemisphaerica var. plena hort, Rosa heckellana subsp. vanheurckiona) naturally grown in Van conditions were used as plant material. The fresh leaves (100-200 mg), immediately after harvesting, were homogenized by 80% aqueous acetone and filtered by white tape filter paper. In the extracts, carotenoid, carotene and anthocyanin levels were determined by using UV spectrophotometer in 470 nm, 537 nm, 647 nm, 663 nm wavelengths respectively. As a result, the highest and lowest carotenoid levels were found as 3.18 µg/ml and 0.59 µg/ml in R. heckellana subsp. vanheurckiona and R. damascena var. semperflorens. The highest anthocyanin level was determined in R. damascena as 0.06 µg/ml.
References
Andersson, S.C., Rumpunen, K., Johansson, E. Olsson, M.E. 2011. Carotenoid content and composition in rose hips (Rosa spp.) during ripening, determination of suitable maturity marker and implications for health promoting food products. Food Chemistry, 128, 689-696.
Blomhoff, R. 2002. A systematic screening of total antioxidants in dietary plants1. Journal of Nutrition, 132, 461-471.
Böhm, V., Fröhlich, K. Bitsch, R., 2003. Rosehip - a ''new'' source of lycopene? Molecular Aspects of Medicine, 24, 385-389.
D'angıolıllo, F., M.M. Mammano, G., Fascella. 2018. Pigments, Polyphenols and Antioxidant Activity of Leaf Extracts from Four Wild Rose Species Grown in Sicily. Not Bot Horti Agrobo, 2018, 46(2): 402-409.
Ercisli, S. 2005. Rose (Rosa spp.) germplasm resources of Turkey. Genetic Resources and Crop Evolution 52:787-795.
Halvorsen, B. L., Holte, K., Myhrstad, M. C. W., Barikmo, I., Hvattum, E., Remberg, S. F., Wold, A. B., Haffner, K., Baugerød, H., Andersen, L.F., Moskaug, J.Ø., Jacobs, D.R.J., Kong, J.M., L.S. Chia, N.K. Goh, T.F. Chia, R. Brouillard. 2003. Analysis and biological activities of anthocyanins. Phytochemistry 64: 923– 933.
Lichtenthaler, H.K., Wellburn, AR. 1983. Determinations of total carotenoids and chlorophylls a and b of leaf extracts in different solvents, Biochem. Soc. Trans., 11: 591- 592.
Olsson, M.E., Gustavsson, K.E., Andersson, S., Nilsson, Å. Duan, R.D. 2004. Inhibition of cancer cell proliferation in vitro by fruit and berry extracts and correlations with antioxidant levels. Journal of Agricultural and Food Chemistry, 52: 7264-7271.
Sims, D.A., J.A., Gamon, 2002. Relationships between leaf pigment content and spectral reflectance across a wide range of species, leaf structures and developmental stages. Remote Sensing of Environment 81: 337–354.
Wenzig, E.M, Widowitz, U., Kunert, O., Chrubasik, S., Bucar, F., Knauder, E., Bauer, R. 2008. Phytochemical composition and in vitro pharmacological activity of two rose hip (Rosa canina L.) preparations. Phytomedicine 15: 826-835.
Winkel-Shirley, B. 2002. Biosynthesis of falvonoids and effects of stress. Current Opinion in Plant Biology 5: 218–223.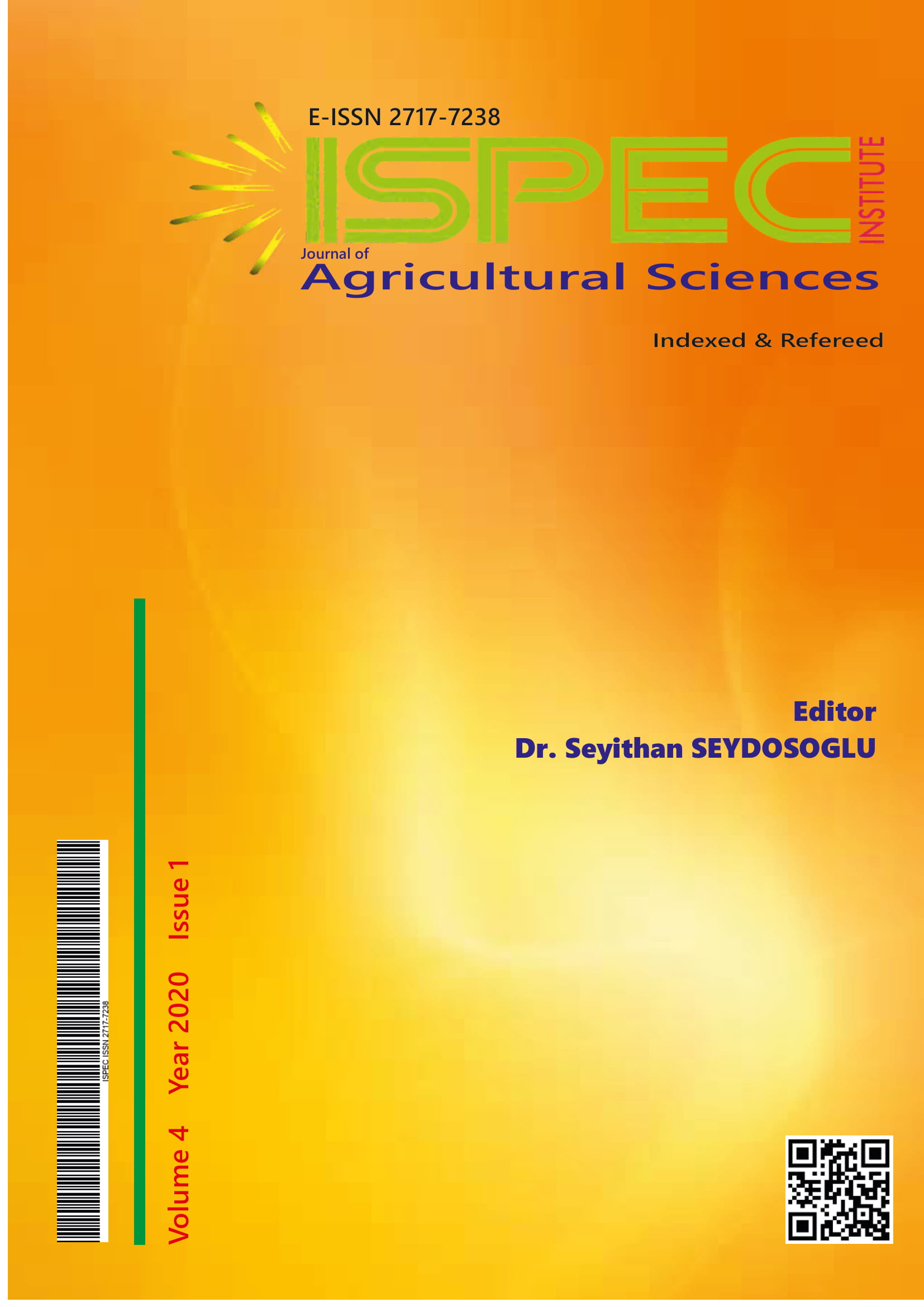 Downloads
How to Cite
Füsun GÜLSER, Şevket ALP, & Ferit SÖNMEZ. (2020). Carotenoid, Carotene and Anthocyanin Levels of Naturally Grown old Garden Roses (Rosa ssp.) in Van. ISPEC Journal of Agricultural Sciences, 4(1), 25–30. https://doi.org/10.46291/ISPECJASvol4iss1pp25-30
License
Copyright (c) 2020 ISPEC Journal of Agricultural Sciences
This work is licensed under a Creative Commons Attribution-NonCommercial 4.0 International License.