Omphalaophlebitis in A Lambs: A Case Report

Abstract views: 332 /

PDF downloads: 276
Keywords:
Lamb, omphalaoflebitis, umbilical cord
Abstract
Umbilical lesions (omphalitis, onfalaoflebitis, omphaloarteritis, uracus fistula and hernia umbilicalis), which cause significant economic losses in ruminants, are quite common. In this study, abscess foci developed in various organs and tissues belonging to approximately 15 days old lamb that died in a sheep herd were macroscopically observed. In the necropsy evaluation, it was found that inflammation and abscess starting from the umbilical cord spread to the liver and peritoneum. According to the results of the examination, a diagnosis of onphalaophlebitis was made and the results were discussed.
References
Ameghino, E., Reif, J.S., Inope, L., Laos, A., Gamarra, M. 1984. Perinatal lamb mortality in the central sierra of Peru. Prev Vet Med. 2(6):833-843.
Aydoğdu, U. 2016. Kuzularda neonatal mortalite. Cumhuriyet Üniversitesi Sağlık Bilimleri Enstitüsü Dergisi, 1(2): 37-46.
Baxter, G.M. 1989. Umbilical masses in calves: Diagnosis, treatment, and complications. Comp Cont Educ Pract. 11: 505-513.
Binns, S.H., Cox, I.J., Rizvi, S., Green, L.E. 2002. Risk factors for lamb mortality on UK sheep farms. Prev Vet Med. 52(3-4):287-303.
Dohoo, I.R., Curtis, R.A., Finley, G.G. 1985. A survey of sheep diseases in Canada. Canadian Journal of Comparative Medicine. 49(3):239-47.
Gençcelep, M., Karasu, A., Kayıkcı C. 2015. Kuzularda umbilikal lezyonlar. Turkiye Klinikleri Veterinary Sciences-Internal Medicine-Special Topics, 1(3): 93-98.
Gökçe, E. 2007. Neonatal kuzu morbidite ve mortalitelerinin klinik sebepleri ve muhtemel risk faktörlerinin belirlenmesi. K. Ü. Sağ Bil Enst, Doktora Tezi.
Görgül, O.S., Yavru, N., Atalan, G., Bilgili, H., Demirkan, İ., Kılıç, N. 2012. Karın bölgesi ile duvarının travmaları, kontüzyonları ve yangısel lezyonlar. Veteriner Özel Cerrahi. 1. Baskı. Malatya: Medipres, 227-254.
Green, L.E., Berriatua, E., Morgan, K.L. 1994. Lamb morbidity in three housed flocks in south- west England during two lambing seasons-farmer versus veterinary monitoring. Prevent. Vet. Med. 19(3-4):233-240.
Green, L.E., Morgan, K.L. 1993. Mortality in early born, haused lambs in South-West England. Prevent. Vet. Med. 17:251-261.
Özaydın, İ., Kılıç, E., Özba, B., Cihan, M. 1998. Boğa buzağılarında umblikal lezyonların (Umblical Hernia, Urachal Fistül, Omfaloflebit ve Omfaloarterit) operatif tedavisinde yeni bir teknik. Kafkas Üniv Veteriner Fak Derg, 4 (1-2): 55-61.
Rings, D.M. 1995. Umbilical hernias, umbilical abscesses and urachal fistulas, surgical consideration. Vet Clin North Am Food Anim Prac, 11: 137-148.
Sağlıyan, A., Han M.C., Günay, C. 2016. Buzağılarda göbek bölgesi lezyonlarının klinik, radyografik ve ultrasonografik olarak değerlendirilmesi. F Ü Sağ Bil Vet Derg, 30(3): 195-198.
Scott PR. 2007. Sheep medicine. 1th ed, 83-98, Manson Publishing Ltd, London.
Yurdakul, İ. 2016. Kuzu ve oğlaklarda göbek kordonu enfeksiyonuna bağlı komplikasyonlar. Cumhuriyet Üniversitesi Sağlık Bilimleri Enstitüsü Dergisi, 1(1): 39-45.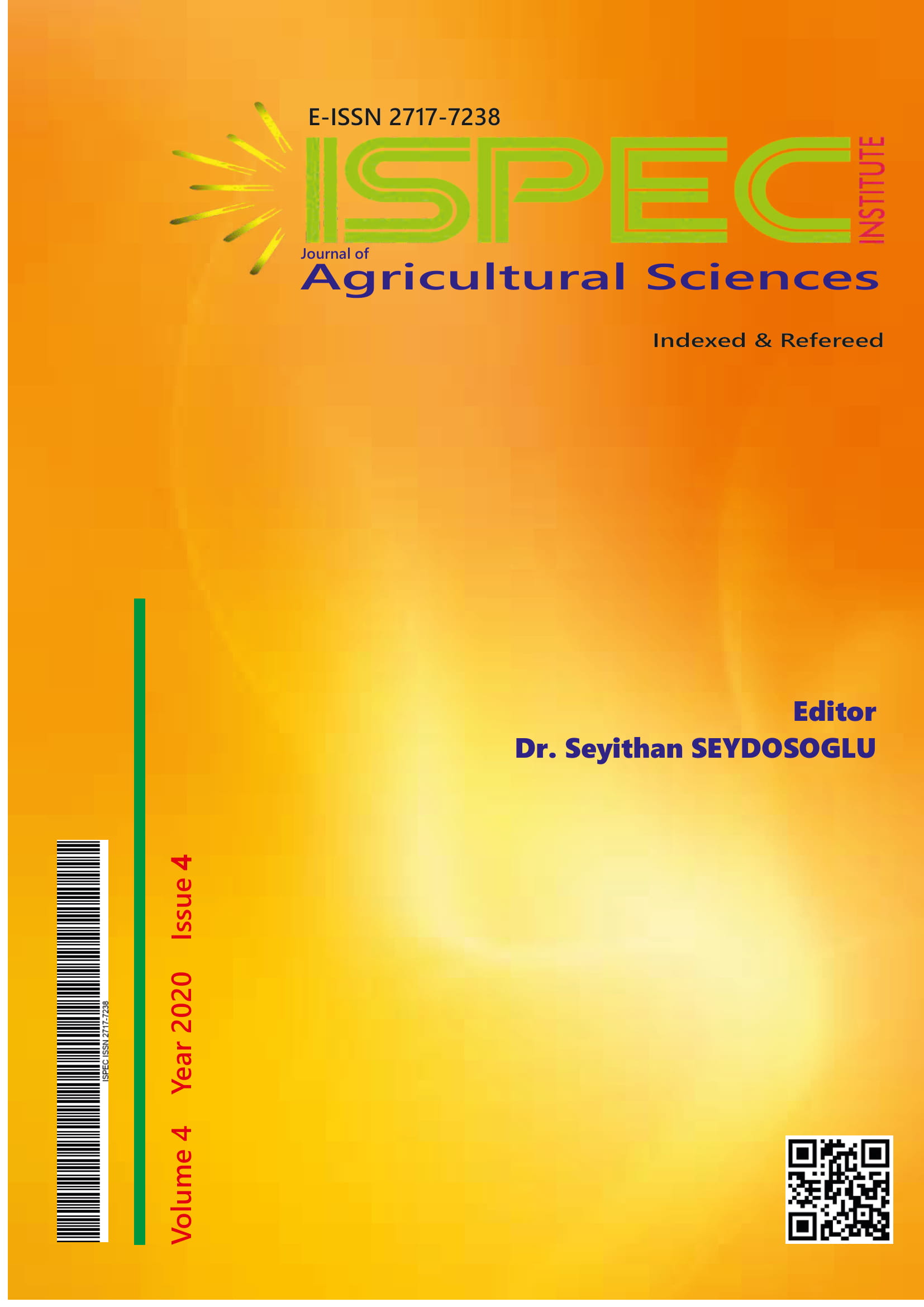 Downloads
How to Cite
Cemalettin AYVAZOĞLU, Erhan GÖKÇE, & H. Metin ERDOĞAN. (2020). Omphalaophlebitis in A Lambs: A Case Report. ISPEC Journal of Agricultural Sciences, 4(4), 972–976. https://doi.org/10.46291/ISPECJASvol4iss4pp970-974
License
Copyright (c) 2020 ISPEC Journal of Agricultural Sciences
This work is licensed under a Creative Commons Attribution-NonCommercial 4.0 International License.