The Hot Water Treatments Effect on Callus Regeneration in Grafted Cuttings for Some Grape Varieties And Rootstocks

Abstract views: 365 /

PDF downloads: 219
Keywords:
Grape, hot water treatment, callus regeneration, thermotherapy
Abstract
In this study, it was aimed to determine the effect of hot water application for the elimination of Agrobacterium vitis on callus formation in grafted cuttings in the production of healthy vine saplings. In the study, 99R and Ramsey rootstocks cuttings and Sultani Çekirdeksiz and Yalova İncisi scions were used as materials. Cuttings and scions were grafted with omega grafting method than, hot water treatment was applied for 15, 30 and 45 minutes at 50 oC. Ramsey rootstock has been grafted with Sultani Çekirdeksiz, Sultani Çekirdeksiz and Yalova İncisi have been grafted on 99R rootstock. Afterwards, grafted cuttings were included in the standard grafted seedlings production program and callus formation was evaluated. Callus formations in grafted cuttings were evaluated after hot water application and growing for 21 days. It was determined that there were important differences between the combinations. In hot water application, callus formation seems to depend on rootstock and variety rather than application time.
References
Anonymous, 2018. FAOSTAT, Statistic Databases
Argun, N., 2001. Orta Anadolu bağlarında taç ucuna neden olan Agrobacterium vitisi'in bölgesel dağılımı ve bazı biyolojik özellikleri üzerinde araştırmalar. Doktora Tezi Ankara Üniversitesi Fen Bilimleri Enstitüsü, 84 s.
Bazzi, C., Piazza C., Burr T. J. 1987. Detection of Agrobacterium tumefaciensin grapevine cuttings. EPPO Bull. 17, 105-112.
Burr, T. J., Katz, B. H. 1983. Isolation of Agrobacterium tumefaciens biovar 3 from grapevine galls and sap and from vineyard soil. Phytopathology 73: 163-165
Burr, T. J., Katz, B. H., Bishop, A. L. 1987. Population of in vineyard and nonevineyard soils and grape roots in vineyard and nurseries, plant. DIS 71: 617 620
Burr, T. J., Ophel, K., Katz, B. H. And Kerr, A. 1989. Effect of Hotwater Treatment on Systemic Agrobacterium tumefaciens biovar 3 in Dormant Grape Cutting Plant. DIS 73: 242-245.
Burr, T. J. Bazzi, C. Süle, S. Otten, L. 1998. Crown gall of grape: Biology of Agrobacterium vitis and the development of disease control strategies. Plant Dis. 82, 1288-1297
Edwards, J., I. Pascoe, S. Salib and N. Laucart. 2000. Hot water treatment of grapevine cuttings reduces incidens of Phaeomoniella chlamydospora in young vines. Co-opertive Researh Centre for Viticulture. PO Box 154. Glen Osmond. South Australia 5064. Australia.
Goussard P. G. 1977. Effect of Hot-Water Treatment on Vine Cuttings and One-Year-Old Grafts. Vitis, 16: 272-278
Ilgın, C., Gürsoy, Y.Z. 2005. Aşılamada Kullanılan Asma Çelik ve Kalemlerini Sıcak Suda Bırakmanın Materyalin Canlılığı Üzerine Etkisi. 6. Türkiye Bağcılık Sempozyumu, Cilt 1, 114-120, Tekirdağ.
İyriboz, 1938. Bağ Hastalıkları. T.C. Ziraat Vekaleti Neşriyatı Umumi Sayı 323, Ankara.
Mahmoodzadeh H., Nazemieh A., Majidi I., Paygami I, Khalighi A. 2003. Effects of Thermotherapy Treatments on Systemic Agrobacterium vitis in Dormant Grape Cuttings. J. Phytopathology 151, 481–484
Morrell A.M., Wample R.L., Mink G.I. and Ku M.S.B. 1997. Heat shock protein expression in leaves of Cabernet Sauvignon. American Journal of Enology and Viticulture, 48: 459–464.
Odabaş, F. 1982. Sıcak Su Uygulamasının Asma Çeliklerinin Köklenmesi ve Gözlerin Sürmesine Etkileri Üzerinde Bir Araştırma. Atatürk Üniv. Zir. Fak. Dergisi 13 (3-4), Erzurum.
Offer C. G., and Goussard P. G. 1980. Effect of Hot Water Treatment on Bud Burst and Rooting of Grapevine Cuttings. Vitis 19: 1-3
Ophell K., Kerr A. 1990. Agrobacterium vitis-New Species for Strains of Agrobagterium biovar 3 from Grapevine. J. Syst. Bacteriol. 40: 236-241
Öktem, Y. E. 1978. Orta Anadolu Bölgesi Bağlarında Zarar Yapan Kök uru Hastalığı [Agrobacterium tumefaciens (Smith and Towsand)] nın Surveyi, Zarar Oranının Tespiti, Çeşit Reaksiyonları ile Kimyasal ve Biyolojik Savaş Yöntemleri Üzerinde Araştırmalar. Doktora Tezi, 123 sayfa (Yayınlanmamış)
Panagopoulos, C.G., Psallidas P. G. 1973. Characteristics of Greek isolates of Agrobacterium tumefaciens. J. Appl. Bacteriol. 36: 233-240
Poyraz, D., Onoğur, E. 2011. Efficacy of Hot Water Treatment for the Control of Grapevine Petri Disease J. Turk. Phytopath., Vol. 40 No. 1-3, 41-50, 2011
Sağlam, H., Çalkan Sağlam, Ö., Akbaş, B., Değirmenci, K., Tamer, Ş. R., Güner, Ü., Çelik, Ş. 2016. Ülkemizde yetiştiriciliği yapılan bazı üzüm çeşit ve anaçları ile bunların klonlarının bazı virüsler yönünden arındırılması. Bahçe 45 (2); 530-534
Sağlam H., Yağcı A., Çalkan Sağlam Ö. 2017. Bazı asma çeşit ve Amerikan asma anaçlarında sıcak su uygulamasının çelik ve kalemlerde canlılık üzerine etkisi. Tekirdağ Ziraat Fakültesi Dergisi 14 (1): 54-60
Sucu S., Yağcı A., Cangi R. 2018. Farklı dönemlerde alınan asma çeliklerine hemen veya aşı öncesi sıcak su uygulamalarının canlılık üzerine etkisi. Bahçe 47; 517-523
Süle S., and Burr T. J. 1998. The effect of resistance of rootstocks to crown gall (Agrobacterium spp.) on the susceptibility of scions in grape vine cultivars. Plant Pathology (1998) 47, 84–88
Winkler, A. J., J. A. Cook, W. M. Kliewer, L. A. Lider, 1974. General Viticulture. University of California Press.. Berkeley and Los Angeles. 633p.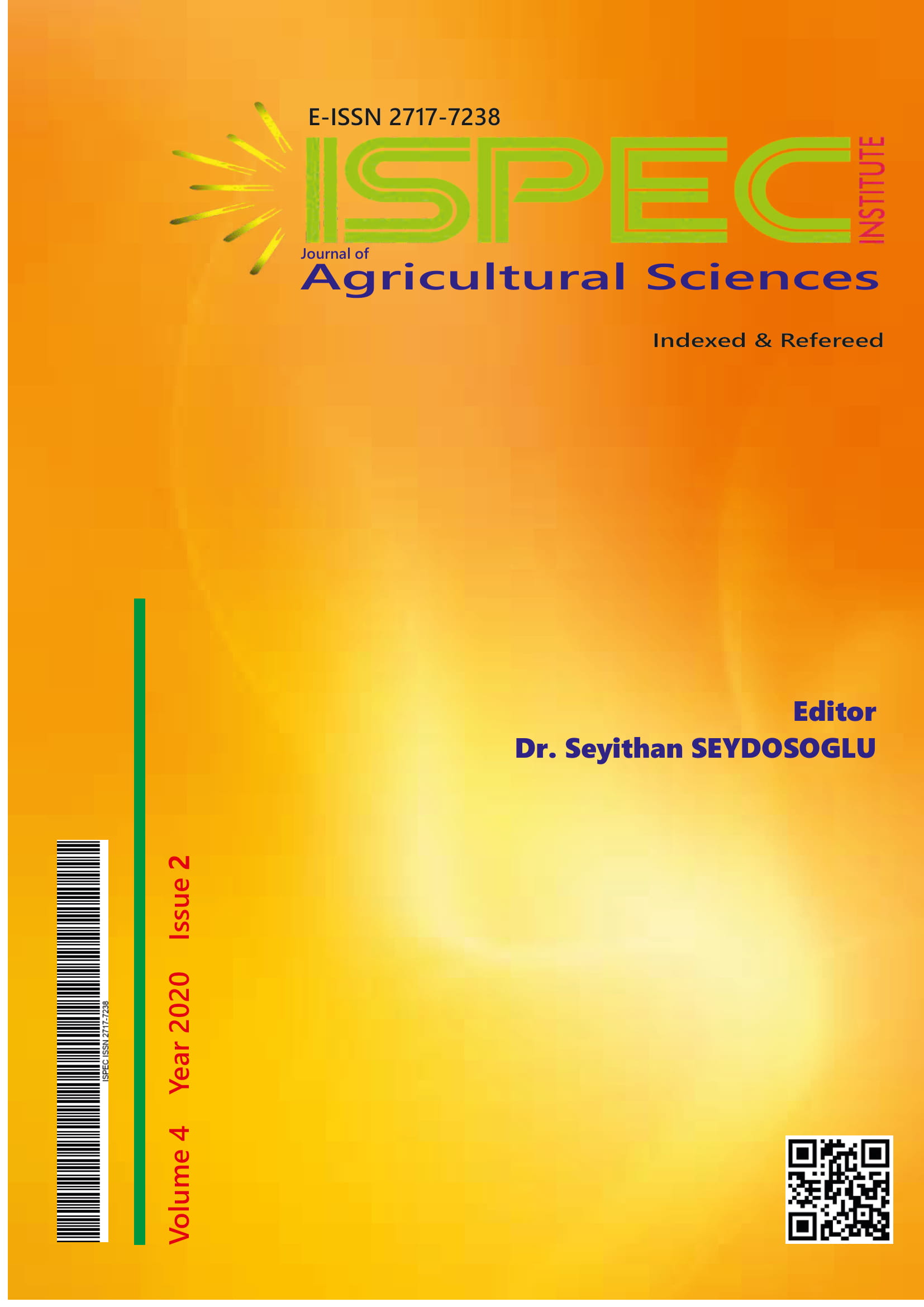 Downloads
How to Cite
Özlem ÇALKAN SAĞLAM, & Hayri SAĞLAM. (2020). The Hot Water Treatments Effect on Callus Regeneration in Grafted Cuttings for Some Grape Varieties And Rootstocks. ISPEC Journal of Agricultural Sciences, 4(2), 136–145. https://doi.org/10.46291/ISPECJASvol4iss2pp1-10
License
Copyright (c) 2020 ISPEC Journal of Agricultural Sciences
This work is licensed under a Creative Commons Attribution-NonCommercial 4.0 International License.