Investigation of The Availability of Children's Playgrounds By Disabled Children In Line With The Universal Design Principles: Van City Example

Abstract views: 734 /

PDF downloads: 482
Keywords:
Universal Design Principles, Playground, Disable
Abstract
Games are indispensable in children's lives. Playgrounds are also important for disabled individuals, who are a part of our lives, to hold on to life, socialize and develop. It should be ensured that disabled children can play without any disability without any help. During the planning and design of children's playgrounds, children's age, physical characteristics and abilities should be taken into consideration and parks should be designed in line with universal design principles and standards. In this study, in line with the universal design principles and standards of disabled children's playgrounds, the suitability of children's playgrounds in the province of Van for children with disabilities was examined. As a result of the study, it was revealed that the existing parks in Van province, which were examined according to universal design principles, are not highly suitable for the use of disabled children. For this reason, a standard regarding the suitability of children's playgrounds for the disabled should be determined in the legal legislation, and local administrations can cooperate with the University, Ministry of Education and Rehabilitation Centers in order to increase the accessibility of the disabled individuals to the parks. In this study, suggestions for an accessible and usable children's playground are presented.
References
Allen, K.E., Schwartz, I.S. 1996. The exceptional child: Inclusion in early childhood education (3rd ed.). Albany, NY: Delmar Publishers, Washington, D.C.
Alp, Ş., Kafadar, N., Çelikel, F. 2020. İstanbul'da açık yeşil alanlarda kurulan dış mekân spor aletlerinin kullanımı ve beklentilerin değerlendirilmesi. ISPEC Tarım Bilimleri Dergisi, 4(4): 1024-1036.
Arat, Y., Güner, M. 2020. Evrensel tasarım ilkeleri kapsamında üniversite yerleşkesinde erişebilirliğin incelenmesi: ODTÜ Örneği. Euroasia Journal of Mathematıcs-Engıneerıng Natural & Medical Sciences, 7(8): 210-229.
Bayraktaroğlu, B., Büke, A. 2015. Çocuk oyun alanlarının evrensellik ölçütleri açısından incelenmesi: Fenerbahçe-Pendik sahil şeridi örneği. Süleyman Demirel Üniversitesi Mühendislik Bilimleri ve Tasarım Dergisi 3(3): 371-378.
Brodin, J., Lindstrand, P. 2006. Inclusion of children in outdoor education learning in motion: Part I. Report No. 43, Stockholm Institute of Education, Child & Youth Science. Retrieved from https:// www.buv.su.se/polopoly_fs/1.48830.1320917351!/TKH_43.pdf.
Bundy, A.C., Luckett, T., Naughton, G.A., Tranter, P.J., Wyver, S.R., Ragen, J., Singleton, E., Spies, G. 2008. Playful Interaction: Occupational Therapy for All Children on the school Playground. Am. J. Occup. Ther. 62(5): 522-526.
Eşkil, Ö.Y. 2011. Engelliler için dış mekan tasarım özellikleri bağlamında Ankara kent parklarının irdelenmesi. Yayımlanmamış yüksek lisans tezi. Bartın Üniversitesi Fen Bilimleri Enstitüsü, Bartın
Irmak, M.A., Külekçi, E.A., Bilge, C. 2018. Çocuk oyun alanları tasarımında farklı ülkelerden örnekler ile yeni yaklaşımların belirlenmesi. Materyal Bilgileri, 36.
Kaya, S. 2015. Düzce kent merkezi yaya yollarında engelli erişebilirliği, Yüksek lisans tezi, Düzce Üniversitesi Fen Bilimleri Enstitüsü, Düzce.
Kuter, N, Çakmak, M. 2017. Kamusal dış mekânlarda engelliler için tasarım: ankara, seğmenler parkı örneği. Anadolu Orman Araştırmaları Dergisi, 3(2): 93-110.
Külekçi, E.A., Irmak, M.A. 2019. Kent parklarında kullanılan donatı elemanlarının estetik ve fonksiyonel açıdan yeterlilikleri; Erzurum Kenti Örneği. Iğdır Üniversitesi Fen Bilimleri Enstitüsü Dergisi, 9(2): 1144-1155.
Pouya, S., Bayramoğlu, E., Demirel, Ö. 2017. Bir engelli okul bahçesi tasarım ana kararları: Doğan Çağlar ortopedik engelliler okulu. Kastamonu Üniversitesi Orman Fakültesi Dergisi, 17(4): 682-690.
Şen, E.B., Öksüz, Ç. 2016. Ankara'daki engelsiz parkların engelli çocukların kullanımına uygunluğunun değerlendirilmesi. Ergoterapi ve Rehabilitasyon Dergisi, 4(1): 15-26.
TÜİK 2019. Türkiye sağlık araştırması. www.tuik.gov.tr (Erişim Tarihi: 02.02.2021).
Türel, G.D. 1988. Ankara kenti yeşil alanlarının kullanım etkinliklerinin bugünkü durumu ve yeterliliği için alınması gereken önlemler. Doktora Tezi (Yayımlanmamış) A.Ü. Ziraat Fakültesi Peyzaj Mimarlığı Bölümü, Ankara.
Uslu, A, Shakouri, N. 2012. Engelli çocuklara dost oyun alanı ve dış mekan tasarımı Erciyes Üniversitesi Fen Bilimleri Enstitüsü Fen Bilimleri Dergisi, 28 (5): 367-375.
Yılmaz, S., Bulut, Z. 2002. Kentsel mekânlarda çocuk oyun alanları planlama ve tasarım ilkeleri. Atatürk Üniversitesi Ziraat Fakültesi Dergisi, 33(3): 345-351.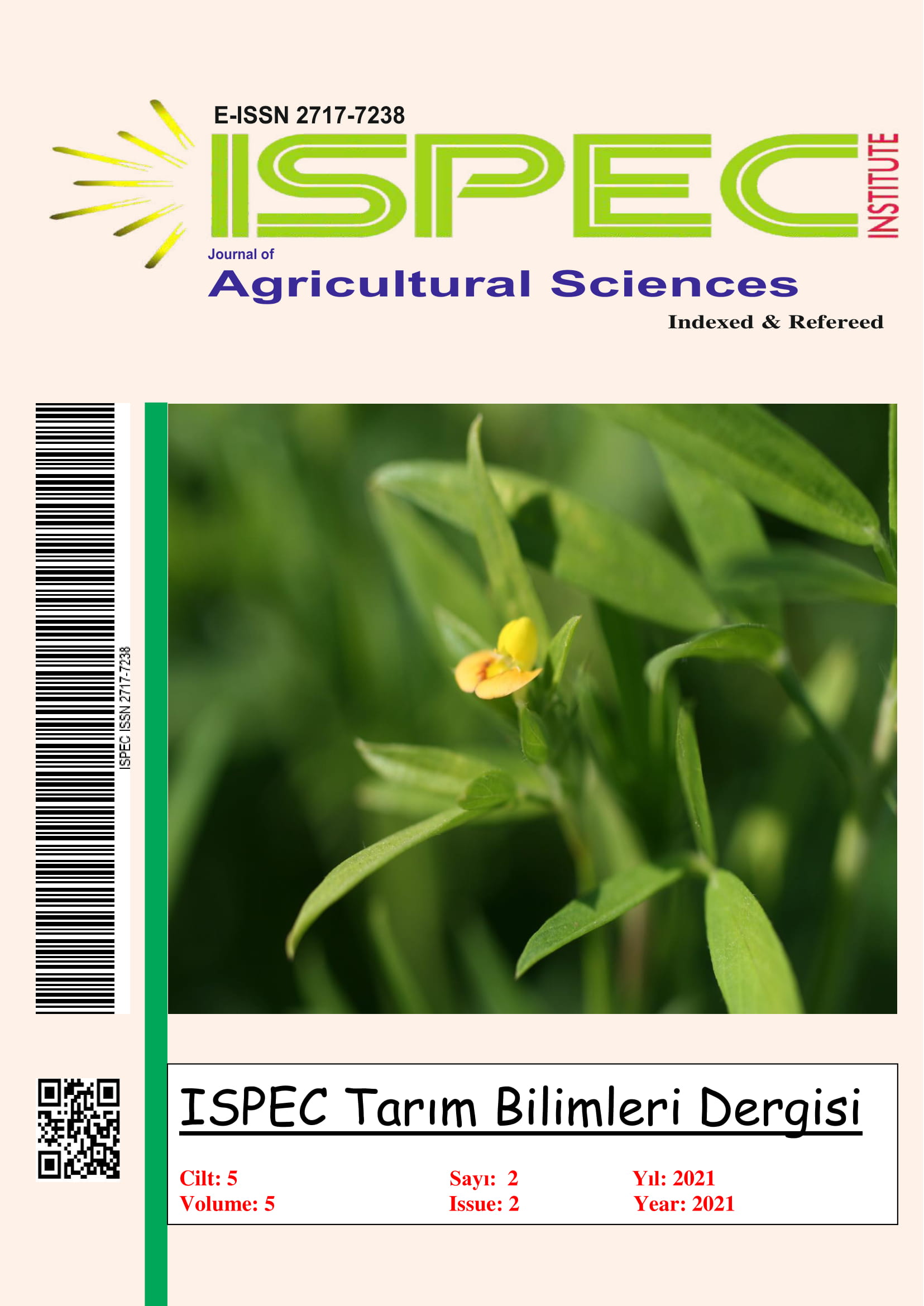 Downloads
How to Cite
Feran AŞUR, & Gizem SAĞLAM ETLAN. (2021). Investigation of The Availability of Children's Playgrounds By Disabled Children In Line With The Universal Design Principles: Van City Example. ISPEC Journal of Agricultural Sciences, 5(2), 333–343. https://doi.org/10.46291/ISPECJASvol5iss2pp333-343
License
Copyright (c) 2021 ISPEC Journal of Agricultural Sciences
This work is licensed under a Creative Commons Attribution-NonCommercial 4.0 International License.